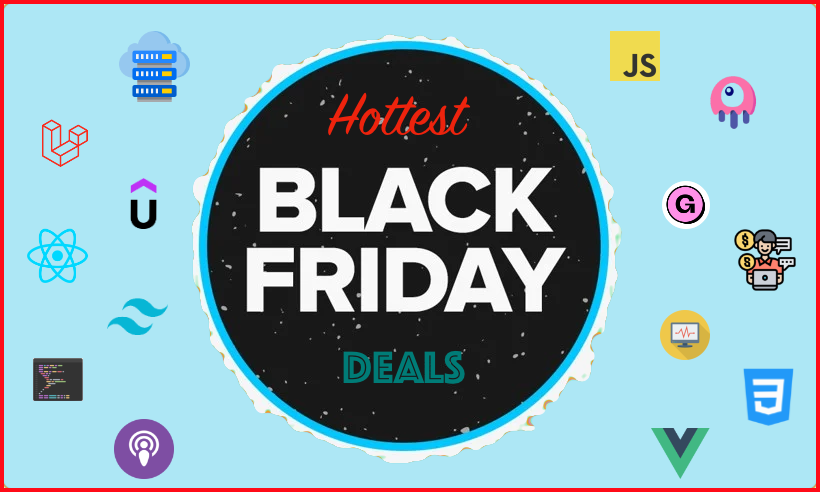 2022 Hottest Black Friday deals for Developers
It's that time of the year again. Where you get a one time chance to get huge discounts on the courses, products and subscriptions which you always wanted to buy but kept putting off looking at the price.
I have complied a list of the hot Black Friday and Cyber Monday deals on the products and courses across Laravel stack which includes Tailwind CSS, VueJS, AlpineJS, Livewire and more web related products.
Share Your Black Friday & Cyber Monday Deals
If you come across deals which I missed including, you can email me at tushar[@]5balloons.info or you can simply comment it in the comment box, or submit it via Google Form by clicking on below button.
Apart from the open submissions, I am also taking submissions for featured deals, which be highlighted on the top of the page. If you are interested in getting your product / service in featured deals list you can do so my sending me an email at tushar[@]5balloons.info, this would involve paying a nominal fee.
Let's Get To The Deals!
I target to target various useful categories for developers and make this page a comprehensive for all the users who are looking for the top deals. To find the deal you're interested in simply scroll down on the page. I split this page into various section to make finding the deal easier. Here are the deal categories :
🔥
🔥
🔥
🔥
🔥
🔥
🔥
🔥
🔥
🔥
🔥
🔥
🔥
🔥
🔥
🔥
🔥
🔥
🔥
🔥
🔥
🔥
🔥
🔥
🔥
---
Note: Where possible I have used affiliate links which give me a small kickback and helps me run this site.